---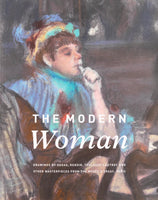 The Modern Woman presents work from the first drawing exhibition ever to travel from the Musée d'Orsay, which boasts the world's finest collection of 19th-century French art. The publication explores the ways in which, in subject matter and technique, this art was considered to be innovative through a focus on one of the most popular subjects: depictions of women.
Included in the publication are works by celebrated French artists such as Daumier, Degas, Gauguin, Manet, Pissaro, Renoir, Rodin, Toulouse-Lautrec, Seurat, Vuillard and others. Beginning around 1850, these artists turned away from the formal portraits, landscapes and historical subjects that had dominated French art for centuries and instead looked to scenes of everyday life as inspiration. Their drawings range from casual portraits and images of domestic interiors to cityscapes celebrating the dynamic new urban landscape of Paris. The drawings speak to the heart of poet and art critic Charles Baudelaire's evocation of the "modern," as well as to the fascinating social evolution and representation of women during this period.
This publication accompanied an exhibition organized by The Musée d'Orsay and held at the Vancouver Art Gallery from June 5 to September 6, 2010.
Edited by Isabelle Julia
Contributions by Guy Cogeval, Isabelle Julia, Thomas Padon
136 pages
8.3 x 10.4 inches
96 colour illustrations
ISBN 9781895442816
Hardcover
Vancouver Art Gallery and the Musée d'Orsay
2010