---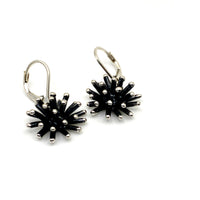 These distinctive earrings are Joanna's signature Splash Earrings in medium.
Material: Sterling silver

Size: 2.5cm x 1.5cm

Designed and made in British Columbia
Based in the west coast of British Columbia Canada, Joanna Lovett has been involved with jewelry making most of her life. As Joanna becomes increasingly focused on the world around her, her work continues to progress and evolve capturing both her love of nature and the materials she works with.