---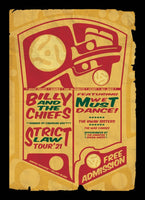 Live from the 'Latch, 2012

archival pigment print, edition of 67
50.8 x 35.6 (image size)
unframed
This edition was created by Sonny Assu specifically for the Vancouver Art Gallery's Artist Edition program in relation to his work in Beat Nation: Art, Hip Hop and Aboriginal Culture on view at the Gallery from February 25 – June 3, 2012.
Assu, a multi-disciplinary artist, is Laich-kwil-tach of the We Wai Kai Nation (Cape Mudge.) Using a range of materials, he merges Northwest Coast Aboriginal iconography with the aesthetics of popular culture as an exploration of his mixed ancestry. His work appropriates, or transforms, items of consumer and popular culture to trace the lineage of his own personal life.
The inspiration for the two new works for Beat Nation and this Artist Edition was a double record album Assu encountered, titled "Indian Music of the Pacific Northwest Coast." Recorded by the musicologist Ida Halpern for the legendary Folkways Records label, the record features Assu's great-grandfather Chief Billy Assu singing with the renowned Kwakwaka'wakw artist Mungo Martin.
In his work Billy and the Chiefs: The Complete Banned Collection, Assu references the form of the vinyl record by painting a cartoon-like image of a spinning disc overlaid with traditional formline imagery onto sixty-seven traditional deer-hide drums, one for every year the potlatch was banned in British Columbia (1884-1951.) For his Artist Edition Live from the 'Latch, Assu has created a poster advertising the performance of Billy and the Chiefs on their 1921 "Strict Law" tour, proudly proclaiming that they have been "Banned By Canadian Gov't."
Sonny Assu is a graduate of Emily Carr University of Art + Design. His work has been featured in numerous solo and group exhibitions across Canada and the United States. He recently won the Creative Achievement Award for Excellence in First Nations Art (2011) from the British Columbia Achievement Foundation and was longlisted for the 2012 Sobey Art Award.