---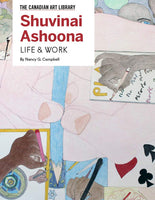 Shuvinai Ashoona is one of Canada's most renowned artists, whose work has been celebrated domestically as well as in Australia, Europe, and the United States. In the publication Vitamin D2: New Perspectives in Drawing (Phaidon, 2013), Shuvinai is recognized as a member of a new generation of artists that engage with drawing in innovative ways. Her highly imaginative work combines aspects of traditional Inuit culture and mythology with influences derived from the non-Arctic world.
Born in Kinngait (Cape Dorset) in 1961, Shuvinai is part of a famed dynasty of artists that includes her grandmother Pitseolak Ashoona and her Sobey Art Award–winning cousin, the late Annie Pootoogook. In the mid-1990s Shuvinai began producing detailed, primarily monochromatic drawings depicting the natural landscapes and traditions of the North. By the late 1990s, however, her attentions shifted to fantastical creatures, dreamlike landscapes, and aerial-perspective representations of a global community, expressed in vivid colour. Shuvinai Ashoona: Life & Work explores the world of an artist whose rich graphic imagery conveys an intricate and textured personal vision. Using pencil, pen and ink, and markers to render dense, highly imaginative drawings, Shuvinai creates art that reflects the intersection of values between the traditional and the contemporary in the North.
This publication accompanies the exhibition Shuvinai Ashoona: Mapping the World organized and circulated by The Power Plant Contemporary Art Gallery, Toronto, and curated by Nancy Campbell, PhD, with assistance from Justine Kohleal, Assistant Curator, The Power Plant Contemporary Art Gallery and is on view at the Vancouver Art Gallery February 22 - May 24, 2020.
Introduction by Sara Angel
Essays by Nancy G. Campbell 
128 pages
8.5 x 11 inches
ISBN 9781487101800
Hardcover
The Canadian Art Library
2019