---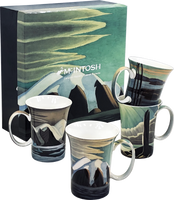 This beautifully gift boxed set of fine bone china mugs depicts four paintings by Lawren S. Harris. The four paintings include: North Shore - Lake Superior, North Shore - Baffin Island, Greenland Mountains, and Afternoon Sun - North Shore Lake Superior.
Capacity: 325 ml or 11 oz approx.
Dimensions: 3.5 x 4.25 inches approx.
Material: Bone China
Microwave and Dishwasher Safe
Produced by McIntosh Fine Bone China
About the Artist
Lawren S. Harris (1885 – 1970) was a Canadian painter and member of the Group of Seven, a group of Canadian landscape artists from 1920 to 1933. He is credited with encouraging his fellow artists to go further into nature and into themselves in the development of their work. Harris's art is distinctively more abstract and simplified, especially his stark landscapes of the Canadian north and Arctic.