---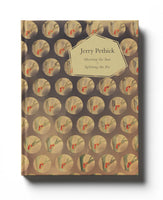 This publication is the first major volume dedicated to the career of this multifaceted artist. Pethick's practice has always been difficult to categorize; though his work focuses on questions of perception, which have been a central focus in the visual arts over the past four decades, his amalgamations of photography, optical devices, sculpture and drawing—as well as the structures he assembles to create new conceptions of material space—look like no other artist's work.
Pethick's oeuvre has always evoked something of the amateur scientist and inventor. In the late 1960s and early 70s he became widely known for his pioneering work with holography in London and San Francisco. While he stopped working with holograms when he moved to Hornby Island, British Columbia in the mid-1970s, the nature of visual perception, the history of optics and integral (or fly's eye) imaging remained central to his work. Although Pethick draws upon a sophisticated in-depth understanding of science and art history, his work is constructed from modest materials and found objects, including cheap plastic Fresnel lenses, discarded sinks, hay bales, light bulbs and bicycle tires that could be found in a local hardware store or recycling depot.
While Pethick's work has been included in exhibitions across Canada, Europe, the United States and Japan, this publication is the first to present an overview of the forty year span of his career.
Edited by Grant Arnold
160 pages
8.5 x 11 inches
70 colour illustrations
ISBN 9781910433430
Hardcover
Vancouver Art Gallery and Black Dog Publishing
2015