---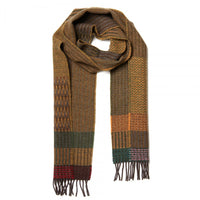 A comforting palette created through this mix of gold and seaweed, gives a tangible sense of a sunny countryside setting, with pops of warm reds and pink hues lit in the detailed border reminiscent of wildflower.  
100% Merino Lambswool

8 x 69 inches

Made in the United Kingdom by Wallace Sewell



UK-based British design studio, Wallace Sewell, was established by Harriet Wallace-Jones and Emma Sewell after graduating from the Royal College of Art in 1990. Strongly influenced by the Bauhaus for its aesthetic and design ideology, Wallace Sewell strive to unite craft and manufacturing, embracing traditional techniques.