---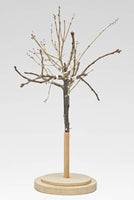 Model of a Tree, 2008

4 types of wood, cotton, thread, screw
edition of 15
Gabriela Albergaria is an internationally exhibiting mid-career artist based in Lisbon and Berlin who uses "nature" as both subject and material in her practice. She examines human interfaces with the natural world, considering the ways in which nature has been manipulated, transported, catalogued and hierarchized.
Albergaria has created a new, exclusive Artist Edition for the Gallery in the form of a miniature tree. ForModel of a Tree, she uses the ancient technique of grafting, in which two pieces of living tissue are connected so they fuse into one. In this work she combines commercial materials that have been processed and prepared using industrial machinery with natural materials that have been collected and joined together by hand using traditional horticultural grafting methods. The sculpture highlights both the artificial and natural ways in which we experience nature.
The artist's work titled Blenheim Street and 29th, a new site-specific installation for the Gallery rotunda consisting of a "rebuilt" oak tree, was featured in the exhibition The Tree: From the Sublime to the Social. To supply the material needed for this large-scale sculptural work, Albergaria collaborated with the Vancouver Board of Parks and Recreation to identify a dead oak marked for felling. The tree was cut in pieces under her direction and reassembled according to her rules of composition, creating a sculptural installation out of natural matter. The work invites the viewer to consider the transposition of nature into the Gallery's interior space. In grafting and unifying the fragmented tree, Albergaria's intervention evokes a poetic action of reparation – reviving that which was considered dead.
Gabriela Albergaria's exhibition highlights include Garden of Eden at Kunsthalle in Emden (2008); and recent exhibitions at Kunstlerhaus Bethanien; Galeria Vermelho, Sao Paolo; and Centro Culturel de Belem, Lisbon.