---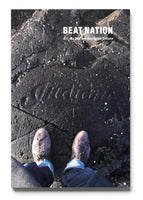 Beat Nation: Art, Hip Hop and Aboriginal Culture reflects a generation of artists who juxtapose urban youth culture with Aboriginal identity in entirely innovative and unexpected ways. Using hip hop and other forms of popular culture, artists create surprising new cultural hybrids—in painting, sculpture, installation, performance and video—that reflect the changing demographics of Aboriginal people today.
Accompanied by descriptions of the individual works and corresponding artists, the book features vibrant images of the exhibition, including graffiti murals with Haida figures, sculptures carved out of skateboard decks and abstract paintings that use formline design, to name a few. While focused on artists working along the West Coast, Beat Nation documents the congregation of these artists from across the Americas to reveal the shared connections between those working in vastly different places.
Beat Nation was published on the occasion of an exhibition curated by Kathleen Ritter and Tania Willard and presented at the Vancouver Art Gallery from February 25 to June 3, 2012.
Edited by Kathleen Ritter, Tania Willard
Contributions by Kathleen Ritter, Tania Willard
96 pages
6 x 9 inches
56 colour illustrations
ISBN 9781895442984
Softcover
Vancouver Art Gallery
2012