---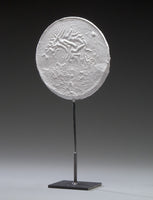 Male Sticker, 2005
epoxy resin, metal
28.0 x 16.0 x 8.0 cm
edition of 99
with a Certificate of Authenticity numbered and signed by the Artist
The second artwork produced for the Vancouver Art Gallery Artist Editions is an Adaptive sculpture by the renowned Austrian artist Franz West. West, who passed away in in July of 2012, was among Europe's best-known contemporary sculptors, and his influence on a younger generation of artists is widely recognized.
The sculpture chosen by the artist for this edition is entitled Mail Sticker, 2005. It is part of a larger body of works called Adaptives or, in German, Paßstücke. West's Adaptives are remarkable objects that are intended to be handled and worn by users. In a very direct way they link the object, the body and physical action. For West, works of art are not to be restricted to a purely visual encounter between the viewer and the object. Art objects – whether they are furniture, sculpture or pictures – are objects of usage whose purpose is functional and aesthetic.
On many occasions West described the interaction between the user and the Adaptive as a fulfilling gesture that brings meaning to both; "Without this active reception, the work would remain somehow wanting, unfulfilled, Without this loving gesture whose theatricality, boldness, or elegance you will modulate at your own discretion – it would remain the equivalent of a lack. So go ahead and grab. No stranger's eye is spying on you."
Franz West's work has been exhibited worldwide since the mid-1970s. He contributed work to Documenta IX and X, the Venice Biennale and Skulptur Projekte Münster. Solo exhibitions of his work have been held at the Whitechapel Art Gallery, London; the Gagosian Gallery, New York and London; the Renaissance Society, Chicago; the Kunsthalle, Basel; Portikus, Frankfurt; MOCA, Los Angeles and the Rooseum, Malmö.