---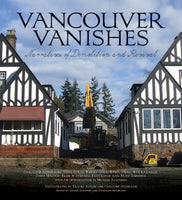 Finalist, Bill Duthie Booksellers' Choice Award (BC Book Prizes), 2016
#1 on the BC Bestseller List

Since 2005, nearly 9,000 demo permits for residential buildings have been issued in Vancouver. An average of three houses a day are torn down, many of them original homes built for the middle and working class in the 1920s, '30s and '40s. Very few are deemed significant enough to earn the protection of a heritage designation, but they are part of our heritage nonetheless and their demolition is not only an architectural loss.

When these old homes come down, a whole history goes with them - the materials that were used to build them, the gardens, the successive owners and their secrets. These old houses and apartments are repositories of narrative. The story of our city is diminished every time one disappears.

Based on the popular Facebook Page, Vancouver Vanishes is a collection of essays and photographs that together form a lament for, and celebration of, the vanishing character homes and apartments in the city.

Introduction by Michael Kluckner
Contributions by Caroline Adderson, Kerry Gold, John Atkin, Elise & Stephen Partridge, John Mackie, Eve Lazarus, Evelyn Lau and Bren Simmers
Photography by Tracey Ayton and Caroline Adderson
224 pages
9 x 10 inches 
ISBN 9781772140347
Softcover
Anvil Press
2015