---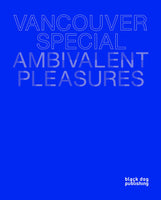 Sale
The Vancouver Art Gallery introduces Vancouver Special, a survey exhibition that will occur every three years. The triennial model offers a sustained engagement with the contemporary artists who make Vancouver a dynamic art community. Ambivalent Pleasures is the first iteration of this series and it features works by 40 artists produced within the last five years—Vancouver's post-Olympic period.
Vancouver Special both documents and furthers the critical conversation around works included in the exhibition, featuring essays on the impact of austerity, increased global interconnectedness, and the arrival of cloud internet on the West Coast art world.
Vancouver Special: Ambivalent Pleasures was published to coincide with the exhibition organized by the Vancouver Art Gallery and curated by Daina Augaitis, Chief Curator/Associate Director, and Jesse McKee, Head of Strategy at 221A, with curatorial assistance from Mandy Ginson, presented from December 3, 2016 to April 17, 2017.
Essays by Daina Augaitis and Jesse McKee
144 pages
8.3 x 10.2 inches
ISBN 9781911164272
Softcover
Vancouver Art Gallery and Black Dog Publishing
2017