---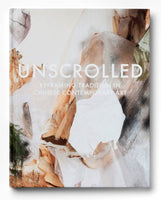 Sale
Tradition in Chinese contemporary art is transformed by individual experiences, contemporary challenges and present-day concerns. This fully illustrated publication explores the work of three generations of Chinese artists who have been trained in both Western art history and Chinese tradition, and who engage with their cultural past as a continuation into the contemporary.
Featuring new photography and essays by leading scholars, this publication moves from literal depictions of traditional culture to more subtle representations that are equally influenced by Chinese heritage. Artists include Ai Weiwei, Chen Shaoxiong, Ji Yunfei, Liu Jianhua, Jennifer Wen Ma, MadeIn Company, Qiu Shihua, Sun Xun, Xu Bing and Zhang Enli.
Unscrolled was published in conjunction with an exhibition organized by the Vancouver Art Gallery, co-curated by Diana Freundl and Carol Yinghua Lu, and presented from November 15, 2014 to April 6, 2015.
Edited by Diana Freundl and Carol Yinghua Lu
Essays by Thomas J. Berghuis, Diana Freundl, Carol Yinghua Lu and Zheng Shengtian
160 pages
10 x 8 inches
120 colour illustrations
ISBN 9781908966834
Hardcover
Vancouver Art Gallery
2014