---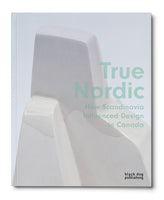 Praised for its material sensitivity, regarded both as modern and humble, progressive but quiet, Nordic and Scandinavian design has had an enduring influence on the development of Canadian design sensibility. Emphasizing durability and truth to materials, this aesthetic communicated an integrity that resonated culturally with Canadians as projecting an appealing humanistic form of Modernism.
Richly illustrated, True Nordic: How Scandinavia Design Influenced Design in Canada presents a comprehensive look at the significance of more than nine decades of Scandinavian and Nordic design on Canadian craft, design, and industrial productions since 1920. Alongside essays by curators and scholars, this publication offers a broad historical survey of Canadian-made ceramics, furniture, textiles, and metalware inspired by the aesthetics of Denmark,  Norway, Sweden, and Finland.
Co-published by the Gardiner Museum and Black Dog Publishing on the occasion of the exhibition True Nordic: How Scandinavia Influenced Design in Canada, curated by Rachel Gotlieb and Michael Prokopow and presented at the Vancouver Art Gallery from October 21, 2017 to January 21, 2018.
Edited by Paula Sarson
Contributions George Baird, Rachel Gotlieb, Mark Kingwell, Michael J. Prokopow
128 pages
9.5 x 11 inches
73 colour illustrations
ISBN 9781910433638
Softcover
Gardiner Museum and Black Dog Publishing
2017