---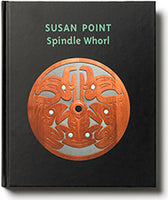 Over the past three and a half decades, Musqueam artist Susan Point has received wide acclaim for her accomplished and remarkably wide-ranging oeuvre that forcefully asserts the vitality of Coast Salish culture, both past and present. During that time, she has produced an extensive body of prints and an expansive corpus of sculptural work in a wide variety of materials that includes glass, resin, concrete, steel, wood and paper. The range of techniques she has employed is as diverse as her selection of materials; they include screen and wood-block printing, wood carving, paper casting and industrial methods of cutting steel, while the scale of her work ranges from the intimacy of the jewelry she produced in the early 1980s to the monumental public sculptures she first undertook in the 1990s and continues to make today.
The Coast Salish spindle whorl has been a persistent motif in Point's work since the beginning of her career. Comprised of a small (usually) wooden disk with a pole inserted through the centre, this tool was traditionally used by Coast Salish women to prepare wool that would be woven into garments and ceremonial blankets. Point has drawn upon the spindle whorl to provide a formal structure for her art while combining this motif with a uniquely Salish vocabulary of circles, crescents and curved triangles, elements that distinguish the art of her people from the formline-based art of northern Indigenous peoples.

While Point's practice is informed by a profound respect for Coast Salish traditions, she has pushed the boundaries of tradition in her desire to articulate Salish culture in contemporary terms. When she embarked on her career there were few precedents for an Indigenous woman to carve or work with sculpture, as these were activities traditionally done by men. Nonetheless—as this exhibition shows—Point embraced both carving and sculptural work and has continually pushed the traditional form of the spindle whorl in extraordinary new directions. Susan Point: Spindle Whorl will survey Point's entire career through more than a hundred artworks that take the spindle whorl as their starting point. 
Co-published by the Vancouver Art Gallery and Black Dog Publishing on the occasion of the exhibition Susan Point: Spindle Whorl, curated by Grant Arnold, Audain Curator of British Columbia Art and Ian Thom, Senior Curator-Historical and presented from February 18 to May 28, 2017.
Edited by Grant Arnold and Ian Thom
160 pages
9.25 x 11.25 inches
130 colour illustrations
ISBN 9781911164265
Vancouver Art Gallery and Black Dog Publishing
2017