---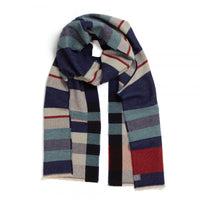 Gunta Stölzl was fundamental to the Bauhaus weaving department and when the Bauhaus moved to Dessau, Stölzl, who was a master of the weaving workshop, designed a blanket for the 'Prellerhaus' student dormitories. The original is a bold interaction of horizontal and vertical, positive and negative. An unknown number of this blanket was made, all lost by circa 1980. The design has been reproduced in celebration of 100 years of Bauhaus. Wallace Sewell worked closely with Gunta Stölzl's family to investigate archive drawings and photographs to pay homage to the original, iconic blanket.

100% Merino Lambswool

13 x 96 inches

Made in the United Kingdom by Wallace Sewell



UK-based British design studio, Wallace Sewell, was established by Harriet Wallace-Jones and Emma Sewell after graduating from the Royal College of Art in 1990. Strongly influenced by the Bauhaus for its aesthetic and design ideology, Wallace Sewell strive to unite craft and manufacturing, embracing traditional techniques.