---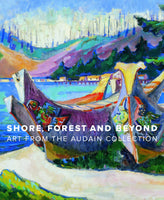 Beginning with the powerful ceremonial objects of the First Nations peoples, Shore, Forest and Beyond: Art from the Audain Collection traces the important strands of artistic production in the province right up to the present day. Gifts from private art collectors have played a vital role in building and expanding the Vancouver Art Gallery's collection. Shore, Forest and Beyond is an exhibition of 100 works gathered from the collection assembled by Michael Audain.

The exhibition and this accompanying publication highlight the breadth of the collection, which includes: mid-19-century masks by Haida, Nuxalk, Salish, Tlingit and Tsimshian carvers, contemporary First Nations works by Robert Davidson, Brian Jungen and Marianne Nicolson, paintings by British Columbia artists Emily Carr, B.C. Binning and E.J. Hughes and contemporary works by Roy Arden, Jeff Wall, Attila Richard Lukacs, Angela Grossman and Takao Tanabe, and Mexican modernist works by Diego Rivera and Rufino Tamayo.

Shore, Forest and Beyond was published to coincide with the exhibition organized by the Vancouver Art Gallery and curated by Ian Thom, senior curator-historical, and Grant Arnold, Audain Curator of British Columbia Art, presented from October 29, 2011 – January 29, 2012.
Edited by Ian Thom and Grant Arnold
ISBN 9781553659297
Hardcover
Vancouver Art Gallery and Douglas & McIntyre
2011