---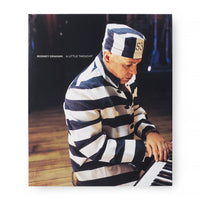 Rodney Graham: A Little Thought tracks the career of this brilliant, idiosyncratic artist whose work spans a range of media including photography, film, book works, installation and pop music.
In this amply illustrated volume, featuring many never-before-seen images from Graham's early career and photographs of his most recent works, scholarly essays provide a broad context for viewing. Cornelia Butler looks at Graham's relationship to landscape and Canadian identity, Lynne Cooke examines the construction of the artist's persona in works such as City Self/ Country Self (2001), Shep Steiner discusses the joke as a conceptual strategy for Graham, Diedrich Diederichsen considers the artist's oeuvre within the context of musical structure and Sara Krajewski describes how Graham's video works unfold. Finally, Grant Arnold offers an in-depth illustrated chronology, tracing the range of activities that have occupied Graham since his early days on the Vancouver scene.
Rodney Graham: A Little Thought was published on the occasion of the artist's first North American museum retrospective, curated by Grant Arnold, Jessica Bradley and Connie Butler and presented at the Vancouver Art Gallery from February 5 to May 8, 2005.
Edited by Grant Arnold, Jessica Bradley, Cornelia Butler
Contributions by Grant Arnold, Jessica Bradley, Cornelia Butler, Lynne Cooke, Diedrich Diederichsen, Sara Krajewski, Shepherd Steiner

208 pages
9.8 x 11.8 inches
155 colour, 70 black and white illustrations
ISBN 9780914357883
Hardcover
Co-published by the Vancouver Art Gallery, the Art Gallery of Ontario, and MoCA LA
2005