---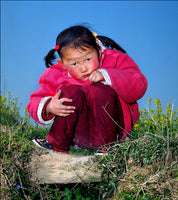 Horizon No.24, 2009
lightjet print 
edition of 50 
27.9 x 25.4 cm
unframed
O Zhang is a young photographer whose compelling work examines issues of identity and transformation in contemporary China. This edition was conceived by the artist in relation to her solo exhibition at the Vancouver Art Gallery's outdoor exhibition space, Offsite, located at the junction of Georgia, Alberni and Thurlow streets at the foot of the Shangri-La development. O Zhang launched this public art space and was on view from July 20 – November 29, 2009. The image relates to a larger version of this work included in her exhibition.
Horizon No. 24 is from a major work where she returned to the rural context of her youth, documenting young female subjects posed before the camera for the first time. Pictured individually, their unconventional stance differs from popular media representations of young girls. The subjects return the viewer's gaze directly—unabashed, bold and powerful—while the vibrant colour of the blue sky behind signals hope and possibility. This image, and the other works in this series, reflects a positive vision of the future of China as a powerful force in a new global economy and in particular the role that women might play in its transformation, something evident in the role of the artist herself.
O Zhang (b. 1976, Guangzhou, China) currently lives and works in New York and Beijing. She was trained at the Central Academy of Fine Art in Beijing (2000) before moving to London where she earned two Masters degrees, the first in fine art from Byam Shaw at Central Saint Martins College of Art and Design (2001), and the second in photography from the Royal College of Art (2004). Zhang has had solo exhibitions in New York, Beijing and London. Her work has been included in group shows throughout Europe, America and China, including the Millennium Monument Art Museum, Beijing (2003); Folkwang Museum, Essen (2003); Kunsthalle Museum, Hamburg (2006); Kunstmuseum, Bern (2006); Museum of Contemporary Art, Shanghai (2006); Joan Miro Museum, Barcelona (2007); UC Berkeley Art Museum, (2008); and Peabody Essex Museum, Massachusetts (2009). Zhang's work is in the collections of Guggenheim Museum, New York; Santa Barbara Museum; Clifford Chance Art Collection, London; and the Millennium Monument Art Museum Collection, Beijing.