---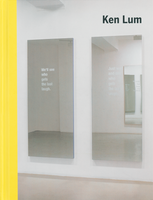 Serving as a major retrospective of one of Canada's most widely recognized contemporary artists, Ken Lum is a richly illustrated volume and the first full-length book devoted to the artist's work in more than nine years.
Over the past 25 years, artist Ken Lum has developed a large body of work that includes painting, sculpture, performance, photography and large, permanent public installations. He has exhibited throughout North America, Europe and Asia, and his awards include a Hnatyshyn Foundation Visual Arts Award.
Ken Lum was published to accompany a large-scale exhibition celebrating the artist's entire career, curated by Grant Arnold, Audain Curator of British Columbia Art, and presented at the Vancouver Art Gallery from February 12 to September 25, 2011.
Edited by Grant Arnold
Contributions by Grant Arnold, Okwui Enwezor, Roland Schöny
144 pages
8.25 x 11 inches
160 colour and black and white illustrations
ISBN 9781553654988
Hardcover
Vancouver Art Gallery and Douglas & McIntyre
2010