---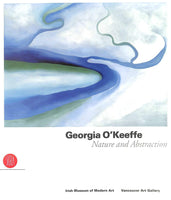 Georgia O'Keeffe: Nature and Abstraction - published for the exhibition at Irish Museum of Modern Art, Dublin - focuses on O'Keeffe's abstract paintings and explore her consistent determination to transform known or recognizable objects into painted abstractions that express the essential elements of form, colour, and allusion.
The intention of this catalogue is to present a fresh and scholarly approach to O'Keeffe's oeuvre, by selecting paintings that display her penchant for abstract forms that are derived from her personal observation of the natural world. It displays the evolution of her aesthetic vocabulary, from the teens through the 1970s, and trace the recurrence of various forms, lines, and colors.
Concurrently, the catalogue includes examples of O'Keeffe's favoured subjects, inspired by music, Lake George, New York City, flowers, trees, New Mexico, dried bones, and aerial perspectives.

This publication was produced on the occasion of Georgia O'Keeffe: Nature and Abstraction on view at the Vancouver Art Gallery October 6, 2007 to January 13, 2008.
Contributions by Richard D. Marshall, Achille Bonito Oliva, Yvonne Scott
189 pages
9.5 x 11 inches
ISBN 9788861301283
Softcover
Co-published by Skira, Irish Museum of Modern Art and the Vancouver Art Gallery
2007