---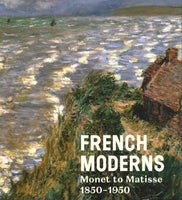 Sale
This volume featuring 59 works from the Brooklyn Museum's renowned European collection, celebrates France as the artistic center of international modernism from the mid-nineteenth to the mid-twentieth century. Ranging widely in scale, subject matter, and style, these paintings and sculptures were produced by the era's leading artists, both French-born and others who studied and worked in France. The 47 artists represented include Bonnard, Caillebotte, Cézanne, Chagall, Degas, Matisse, Monet, Redon, Renoir and Rodin.
Organized into four sections, the works in this book exemplify the successive avant-garde movements that defined modern art in the nineteenth and twentieth centuries, tracing a shift from naturalism to the rise of abstraction. Chapters on 'Landscape,' 'Still Life,' 'Portraits and Figures,' and 'The Nude,' invite the reader to discover comparisons and contrasts across time and mediums.
French Moderns: Monet to Matisse, 1850–1950 was published on the occasion of the exhibition organized by the Brooklyn Museum. It is presented at the Vancouver Art Gallery from February 21 - May 20, 2019.
Essays by Richard Aste and Cora Michael
144 pages
11 x 10 inches
ISBN 9781785510724
Hardcover
Scala Arts Publishers Inc.
2017