---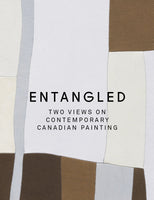 Entangled: Two Views on Contemporary Canadian Painting offers an insight into two distinctly different modes of painting that have come to dominate contemporary painting in Canada. The origins of both can be effectively traced back to the 1970s, to a moment when the continued existence of painting was hotly debated. Within that debate two new strategies were devised, one that proposed the possibility of conceptual painting—a highly refined notion of painting that emerged from and returned to the idea—and a second, ambivalent proposition that valued actions and materials over ideas—in short, doing and making were pitted against ideas and concepts. 
This title traces the legacy of this debate by documenting the work of 32 artists who have been largely responsible for the strong revival that painting now enjoys in Canada. With work by artists from Halifax to Victoria and many places in between, the book offers a convincing survey of the lively exchanges that make painting relevant and meaningful today.
Entangled: Two Views on Contemporary Canadian Painting was published on the occasion of the exhibition organized by the Vancouver Art Gallery and co-curated by Bruce Grenville, Senior Curator and David MacWilliam, Emily Carr University of Art + Design professor, and presented from September 30, 2017 to January 1, 2018.
Edited by Bruce Grenville and David MacWilliam
112 pages
10.1 x 7.7 inches
ISBN 9781911164449
Softcover
Vancouver Art Gallery and Black Dog Publishing
2017