---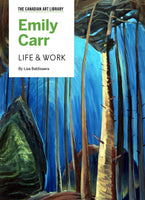 Emily Carr (1871-1945) is one of Canada's most beloved artists. An independent woman and a Westerner who gained prominence at a time when female painters were not recognized internationally, her life and work reflect a profound commitment to the land she knew and loved. Carr's sensitive evocations reveal an artist grappling with spiritual questions inspired by the Canadian sea, land, and people. Although more than half a century has passed since her death, any artist who engages with the West Coast must contend with her legacy. Her paintings continue to inspire generations of artists.
Along with the Group of Seven, Carr became a leading figure in Canadian modern art in the early twentieth century. Emily Carr: Life & Work traces the artist's trajectory from her life in Victoria, where she struggled to receive acceptance, to her status as one of Canada's most influential painters. With insight and intelligence, author Lisa Baldissera explores how although during Carr's life she endured hardship, personal isolation, and rejection, she persevered to create an iconic vision for the nation.
This book explores how Carr travelled extensively, learning from European, American, and Indigenous forms and receiving formal training at art academies as well as from private tutors. In doing so, she continued to grow in artistic power as a result of her own intense observation and of her vigorous experimentation with a variety of methods and media, reflecting the fusion of wide-ranging influences. Baldissera reveals why Carr's art remains relevant today and its legacy interests many contemporary West Coast artists.
By Lisa Baldissera

128 pages
8 x 10.9 inches
ISBN 9781487102326
Hardcover
The Canadian Art Library
2021