---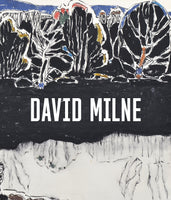 This beautifully illustrated book documents the life and work of David Milne (1882-1953), one of Canada's greatest modern painters whose vast body of work shows him to be an artist of true originality and vision. With more than 100 works in oil and watercolour, never before published photographs and drawings by the artist, this book provides unique and personal insights into this innovative Canadian artist.

Like the members of the Group of Seven, Milne primarily chose landscape as his subject matter. However, his true subject was the process of perception and representation, reducing his painting to its essentials and infusing it with his own distinctive modern sensibility. Through the use of photographs, archival material and Milne's own writings the book presents a moving account of one man's spiritual and emotional voyage into modernity: from his early life in small town Ontario, to the bustling sidewalks of New York, on to the war torn landscapes of northern France as an official war artist and back again to the woods, lakes and fields of upstate New York.
Pivoting as it does on Milne's war art, which includes some of the most formally daring of his career, the publication will serve as a poignant locus of remembrance, underscoring the historic bond between Canada and Great Britain, and offering a unique perspective on history through the eyes of one of Canada's most sophisticated modern painters.
Published on the occasion of the exhibition David Milne: Modern 
Painting presented at: 
  
Dulwich Picture Gallery: 14 February - 7 May, 2018 
Vancouver Art Gallery: 16 June - 16 September, 2018 
McMichael Collection of Canadian Art: 4 October, 2018 - 13 January, 2019       
Edited by Sarah Milroy and Ian A.C. Dejardin
Essays by Ian A.C. Dejardin, Katerina Atanassova, Katharine Lochnan, Margaret MacMillan, Anne-Marie Ninacs, Jane Urquhart, Edward Burtynsky, Sarah Milroy, John O'Brian and David P. Silcox
204 pages
9.6 x 11.2 inches
ISBN 9781781300619
Softcover
Philip Wilson Publishers Ltd.
2018