---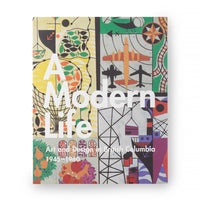 In 1949 the forest magnate H.R. MacMillan opened an exhibition at the Vancouver Art Gallery entitled Design for Living, which brought together art and design communities to create four imaginary households for post-war Vancouverites. It heralded an unprecedented level of cooperation between the province's industry and its artists and craftspeople—a relationship that seemed to hold great promise for the development of art, furniture and craft in British Columbia.
A Modern Life examines the coming together of what were often very separate disciplines in post-World War II British Columbia, as well as the trend-setting design and use of materials that developed in the province and the impact that these had on the more traditional art community. Featuring images of the 1946 Design and Industry exhibition as well as works by E.J. Hughes and B.C. Binning, the book demonstrates the enduring relevance of the art and design community's ideas during this period and their contribution to our understanding of both this community's history and the relationship of the built environment to the British Columbia landscape.
This catalogue was published on the occasion of an exhibition curated by Alan C. Elder and Ian M. Thom and presented at the Vancouver Art Gallery from May 15 to October 11, 2004.
Edited by Ian M. Thom, Allan Elder
Contributions by Rachel Chinnery, Allan Collier, Alan Elder, Sherry McKay, Scott Watson
175 pages
7.5 x 10 inches
60 colour, 100 black and white illustrations
ISBN 9781551521718
Softcover
Vancouver Art Gallery and Arsenal Pulp Press
2004