---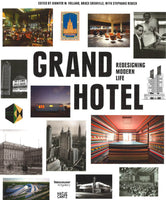 From the hotel's origin in humble inns dotted along ancient trade routes, to today's worldwide Hilton and Hyatt networks, the concept of the hotel has come a very long way indeed. We now talk about boutique hotels and resort hotels, places that connote a relatively new lifestyle of perpetual leisure and transience, and as the role of the hotel has expanded, so too have architects and interior designers risen to the challenge, producing ever more spectacular structures.
Today, the largest hotel in the world--the First World Hotel in Malaysia--boasts 6,118 rooms, and the tallest hotel--the Ritz-Carlton Hong Kong--sits at the top of the 1,600-foot-high International Commerce Center. Grand Hotel is the most ambitious book on the subject yet published. Its scope is global and trans-historical: a tiny sampling of hotels featured includes the Dolder Grand Hotel and Curhaus in Zurich; SLS Bazaar in Beverly Hills; the Ace Hotel in New York; Fontainebleau Hotel in Miami Beach; and the Lloyd Hotel and Cultural Embassy in Amsterdam. With 350 colour illustrations, it includes extended blog entries, newly commissioned essays and interviews, plus reprints and excerpts from classic texts on the topic.
This catalogue was published on the occasion of the exhibition organized by the Vancouver Art Gallery and co-curated by Jennifer M. Volland, Guest Curator, and Bruce Grenville, Senior Curator, with Stephanie Rebick, Assistant Curator and presented at the Vancouver Art Gallery from April 13 - September 15, 2013.
Edited by Jennifer M. Volland, Bruce Grenville, Stephanie Rebick
Contributions by William Baker, Todd Gannon, Bruce Grenville, Brad Johnson, Norman Klein
336 pages
9 x 11 inches
452 illustrations
ISBN 9783775734837
Hardcover
Vancouver Art Gallery and Hatje Cantz
2013