---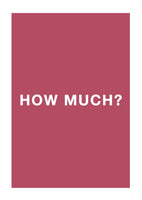 How Much?, 2013
inkjet print, edition of 50, 10 APs
69 x 49.5 cm (paper size)
unframed
This Artist Edition was created by Muntadas specifically for the Vancouver Art Gallery's Artist Edition program in relation to his major show Muntadas: Entre/Between on view at the Gallery from November 9, 2013 to February 10, 2014.
Muntadas has a long history of creating installations and conceptual works that engage the issues of our time from politics and power to business and art. This graphic print relates to a larger work which launches a series of questions in Catalan, Spanish and English—Who? What? Why? How? Where? When? For Who? How Much? In asking these poignant questions in the development of any project, Muntadas probes the ways in which the world functions and in particular how the art world organizes its nomenclature, its language of display, its professional hierarchies, its institutional decisions and its various audiences. How Much? points to the many underlying frameworks imposed on art itself.
A pioneer in the fields of conceptual and media art, Muntadas' practice includes performance, video, photography, multi-media installations, publications, web-based projects and public art. Incorporating in-depth research and astute readings of cultural situations, his incisive works have addressed ideas such as the relationship between public and private, the role of the media in transmitting ideas and information and the dynamics of official architecture and other social frameworks. Muntadas began experimenting with politically motivated actions in the early 1970s. Since that time he has exhibited widely in addition to his career as a professor at such notable institutions as École nationale supérieure des Beaux-Arts, Paris; the San Francisco Art Institute; Cooper Union, New York; the University of São Paulo; and the University of Buenos Aires. He currently holds the position of Professor of the Practice at the MIT program in Art, Culture and Technology/Department of Architecture in Cambridge, Massachusetts and a Visiting Professor at the IUAV in Venice, Italy. He has participated in many international exhibitions including Documenta V and X, the Venice Biennale (1976, 2005), the Whitney Biennial (1991) and biennials in São Paulo, Lyon, Taipei, Kwangju, Istanbul and Havana. He has been the recipient of numerous prestigious prizes including the 2009 Velázquez Prize for the Plastic Arts awarded by the Ministry of Culture of Spain. Muntadas lives in New York and Barcelona.