---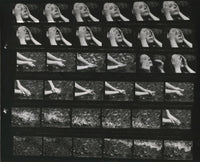 Contact Sheet for L'Après-Midi, 1977/2012
silver gelatin print, edition of 65, 5 APs 
27.9 x 35.6 cm (image size)
unframed
This Artist Edition was created by Ian Wallace specifically for the Vancouver Art Gallery's Artist Edition program in relation to his major retrospective Ian Wallace: At the Intersection of Painting and Photographyon view at the Gallery from October 27, 2012 to February 24, 2013.
Ian Wallace is an internationally renowned Vancouver-based artist known for his conceptual photo-based work. Wallace was among the first to use large-format photography in the 1970s, essentially equating photography with the scale of cinema, advertising and history painting. This strategy has been significant in redefining the nature of picture-making in the 20th century.
Contact Sheet for L'Après-Midi is a black and white silver gelatin contact print created from negatives Wallace shot in 1977 for the works Colours of the Afternoon, which is included in his current exhibition, and L'Après-Midi. The work is a series of images depicting a close up of a woman's face with her eyes closed and her hands pressed against her temples. The sequence features her hands as they move to cover her face and then focus on just her hands and arms as she washes them in the pebble-filled water. This gesture suggests a moment of revelation or enlightenment; the washing of her hands is a literal cleansing but also suggestive of purity, in keeping with the idea that the subject is experiencing a moment of transformation. During the 1970s, influenced by cinema and wishing to link photography to the discourses of contemporary art, Wallace experimented with sequential imagery. Of his work during this period Wallace has stated that he "…had to go beyond the discrete and singular image that was typical of classical photography, and to gather images into dramatic sequences, directly influenced by cinema, and serial arrangements directly influenced by abstract minimal sculpture, in order to present a compositional logic that emphasized syntax and rhetorical or dramaturgic devices. This was an expanded notion of what I called in 1969 'a literature of images.'" Although produced at a much smaller scale, this work relates to Wallace's large-scale panoramic work of the 70s depicting sequences of images.
Wallace was born in Shoreham, England in 1943 and moved to Canada in 1944. He has exhibited his work since 1965 including solo exhibitions at Art Gallery of Ontario, Toronto (1975); Vancouver Art Gallery (1988); Hamburg Kunstverein (1998); Witte de With, Rotterdam (2008); Kunsthalle fur die Rheinlande und Westfalen, Dusseldorf (2008); Kunsthalle Zurich (2008); Mackenzie Gallery, Regina (2010); and The Power Plant, Toronto (2010.) His work has also been included extensively in group exhibitions internationally. Wallace was recognized with a VIVA Award of Honour in 1997, the Canada's Governor General's Award in Visual Art in 2004 and the Molson Prize from the Canada Council for the Arts in 2009. His work is held in prominent public and private collections nationally and internationally, including Art Gallery of Ontario, Toronto; Generali Foundation, Vienna; Museum of Contemporary Art, Los Angeles; Museum of Modern Art, New York; Musée d'art contemporain, Montréal; National Gallery of Canada, Ottawa; and Vancouver Art Gallery.