---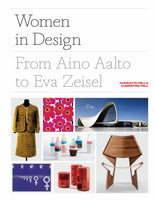 "Offering an alternative, female–focused history, Women in Design is an essential new tome dedicated to the innovators who have shaped the design world" – ELLE Decoration

Featuring more than 100 profiles of pioneering women designers, some who have achieved global recognition such as Ray Eames, Charlotte Perriand and Zaha Hadid, it also introduces the fascinating and often untold stories of lesser–known designers, who have similarly shaped and enriched the story of design.

An excerpt from the book:

"This book is, first and foremost, a celebration of some truly remarkable women whose careers in design have been exceptional. They can rightly be called exceptional because, despite the odds stacked against them, the women featured here created significant bodies of work within what was – and to a certain extent still is – the male–dominated field of design.

By highlighting their extraordinary achievements, our intention is to contextualize the role of women in design over the last one hundred years or so in order to trace how the status of female designers has evolved, while at the same time assessing where it stands today. In the past, all too often the work of female designers was overlooked in the literature on design, while also being woefully under–represented in exhibitions and museum collections. This book seeks to redress these outstanding omissions.

The primary reasons for this paucity of representation are that – as in other male–dominated professions – women were often either largely excluded from certain areas of endeavour or had no option but to take on subordinate roles. Women designers and their work have, also, all too often been assessed through the lens of the patriarchy, meaning they have either been entirely defined by their gender or their contributions have been subsumed under that of their 'more famous' husbands, brothers, fathers or lovers.

This book attempts to tell a very different story, one that appraises their activities within the wider landscape of the feminist movement – both past and present. It is only now that women designers working in developed free–market economies are beginning to enjoy anything like equality with their male counterparts when it comes to professional access and recognition, let alone parity of remuneration. As for women living elsewhere in the world, having any kind of professional career, let alone one in design, is still often largely an impossible dream."
By Charlotte Fiell
256 pages
8.8 x 11.3 inches
ISBN 9781786275318
Hardcover
Laurence King Publishing
2019