---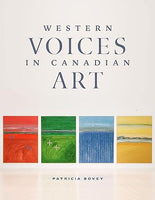 Throughout her remarkable career as a gallery director, curator, and author, Patricia Bovey has tirelessly championed the work of Western Canadian artists. Western Voices in Canadian Art brings this lifelong passion to a crescendo, delivering the most ambitious survey of Western Canadian Art to date.
Beginning with the earliest European-trained artists in Western Canada, and moving up to present day, Bovey amplifies the depth, scope, and importance of the diverse artists (both settler and Indigenous) whose distinct voices have contributed to the Western Canadian artistic tradition. Bovey then adopts a thematic approach, richly informed by her knowledge and experience, connecting art and artists through time and across provincial boundaries.
Insights from Bovey's studio visits and conversations with artists enhance our understandings of the history and trajectory of, and impetus for Canadian artistic creation. Lavishly illustrated with over 250 works reproduced in full colour, Western Voices in Canadian Art is a book that needs to be seen, and its artists and art celebrated. 
Patricia Bovey
472 pages
7 x 9 inches 
ISBN 9780887550478
Hardcover
University of Manitoba Press
2023