---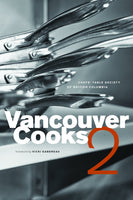 Five years after Vancouver Cooks, which sold more than 13,000 copies, the Chefs' Table Society returns with over 100 new recipes from 70 chefs around Vancouver, Victoria and the Okanagan, including:
Tojo Hidekazu of Tojo's Restaurant
Vikram Vij of Vij's
Melissa Craig of Bearfoot Bistro in Whistler
Rob Feenie
Divided into four sections -- local food, international flavours, emerging talents and pioneering chefs -- Vancouver Cooks 2 celebrates the key elements that have forged Vancouver's unique culinary culture and made the city a world-class dining destination. We also see the industry behind the scenes, understanding its heritage and the innovative strides Vancouver chefs are taking.
Written for the home cook, Vancouver Cooks 2 pairs more than 50 full-colour photographs with the mouthwatering recipes, each with wine notes.
Royalties from the sale of this book go to the Chefs' Table Scholarship and Bursary Fund.
By: Chefs Table Society
256 pages
7 x 10.5 inches
ISBN 9781553652618
Softcover
Published by: Douglas & McIntyre
2009