---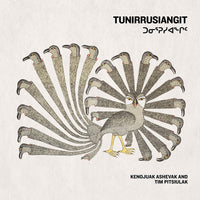 Two generations of Inuit artists challenging the parameters of tradition.
Kenojuak Ashevak shot to fame in 1970 when Canada Post printed The Enchanted Owl, a print of a black-and-red plumed nocturnal bird, on a postage stamp. She later became known as the magic-marker-wielding "grandmother of Inuit art," famous for her fluid graphic storytelling and her stunning depictions of wildlife. She was a defining figure in Inuit art and one of the first Indigenous artists to be embraced as a contemporary Canadian artist.
Ashevak's legacy inspired her nephew, Timootee (Tim) Pitsiulak, to take up drawing at the Kinngait Studios. In his relatively short career, he became a popular figure, known for drawing animal figures with a hunter's precision and capturing the technological presence of the South in Nunavut.
Tunirrusiangit, "their gifts" or "what they gave" in Inuktitut, celebrates the achievements of two remarkable artists who challenged the parameters of tradition while consistently articulating a compelling vision of the Inuit world view. Published to coincide with a major exhibition at the Art Gallery of Ontario, opening on 16 June and continuing until late August, Tunirrusiangit features more than 60 reproductions of paintings, drawings, and documentary photographs. Completing the book are essays by contemporary artists and curators Jocelyn Piirainen, Anna Hudson, Georgiana Uhlyarik, Koomuatuk Curley, Laakkuluk Williamson Bathory, and Taqralik Partridge that address both the past and future of Inuit identity.
Contributions by Jocelyn Piirainen, Anna Hudson, Georgiana Uhlyarik, Koomuatuk Curley, Laakkuluk Williamson Bathory, and Taqralik Partridge
160 pages
10.5 x 10.5 inches
ISBN 9781773100913
Hardcover
Goose Lane Editions
2018