---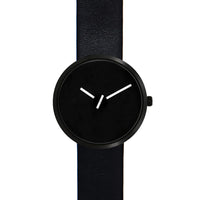 Now, this watch has possibilities. A perfect combination of classic and contemporary. The Sometimes Black Watch with Black Band is exactly that! A black watch with a black band and black buckle highlighted only by the white color of the three hands.
Black silicone band

Size: 36mm watch face
About the designer
For designer Denis Guidone, he finds beauty in the inspiration that arises between different cultures. Through his design studio based in Milan and Tokyo, Guidone finds the contrasting elements between Eastern and Western cultures fascinating, as he merges the aesthetics of the two extremes with unconventional and strict precision into elegant, eye-catching work.