---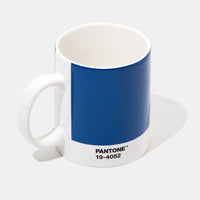 The classic, simple design of the Pantone Mug makes it a must have addition to any serious design space. Adorned with it's familiar Pantone Colour waistband, Pantone logo and colour number the mugs have been designed by Danish design house, Room Copenhagen, made from top quality China and are now dishwasher and microwave safe.
Packaged in colour coordinated gift box
Capacity: 375 ml or 13 oz

Dimensions: 3.25 x 4 inches
Material: Fine China
Microwave and Dishwasher Safe

Complies with all relevant food safety regulations 
PANTONE Color of the Year
The Pantone Color of the Year 2020, PANTONE 19-4052 Classic Blue is a timeless and enduring blue hue, elegant in its simplicity. Suggestive of the sky at dusk, the reassuring qualities of Classic Blue offers the promise of protection. Classic Blue brings a sense of peace and tranquility to the human spirit, instilling calm and confidence and offering refuge. Stimulating us to look beyond the obvious, PANTONE 19-4052 Classic Blue encourages us to expand our thinking; challenging us to think more deeply, increase our perspective and open the flow of communication.