---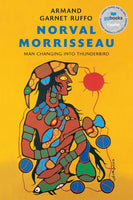 Norval Morrisseau (1932–2007), Ojibway shaman-artist, drew his first sketches at age six in the sand on the shores of Lake Nipigon, and his first paintings were in cheap watercolour on birch bark and moose hide. By the end of his tumultuous life, the prolific self-taught artist was sought by collectors, imitated by forgers and received the Order of Canada among other accolades. Critics, art historians and curators alike consider him one of the most innovative artists of the twentieth century and arguably Canada's greatest painter.
Morrisseau was a controversial figure too, eliciting everything from resentment to outright condemnation. Living on booze, flat broke and exhausted, he often traded art for a drink, to the frustration of his agents. Despite immense talent and success, his alcoholism plunged his wife and children into poverty and he spent years bouncing between skid row and jail.
In Norval Morrisseau: Man Changing Into Thunderbird, Ruffo draws upon years of extensive research, including interviews with Morrisseau himself, to recollect the artist's life in all its triumphs and tragedies: his first solo and breakthrough exhibition at the Pollock Gallery in Toronto; his legendary "Garden Party" where he and his agent Jack Pollock flew a coterie of critics and patrons from Toronto to remote Beardmore for an afternoon tea party. Here too is Morrisseau's heart-wrenching battle with alcoholism, then Parkinson's disease, and exultant "Shaman's Return" to national status in the Canadian art scene and his solo show at The National Gallery of Canada.
Armand Garnet Ruffo draws upon his own Ojibway heritage and experiences to provide insight into Morrisseau's life and iconography in this brilliantly creative evocation of the art and life of Norval Morrisseau, a life indelibly tied to art.
By Armand Garnet Ruffo
320 pages
6 x 9 inches
ISBN 9781771621588
Softcover
Douglas & McIntyre
2018