---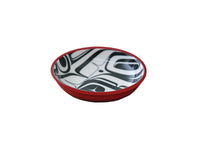 This small porcelain dish comes in two designs by artist Kelly Robinson. It is the perfect dish for small items like keys or jewellery.
The Raven was the first symbol and crest of the Northwest Coast peoples. As the creator's assistant, he created all things that exist with mysterious trickery. The mystical bird is a symbol of prestige and is a cultural hero.
Royalties paid on this product.
Comes packaged in gift box

Size: 3.7 x 0.9 inches

Material: Fine porcelain

Dishwasher and microwave safe

Designed in Canada
Kelly Robinson was born in Nanaimo, BC. His roots and family origin are in Bella Coola, BC with descendants from both Nuxalk and Nuu-chah-nulth nations. He was exposed to First Nations artwork from an early age and was always interested in learning and refining the art - specifically the unique design forms of the Nuxalk.