---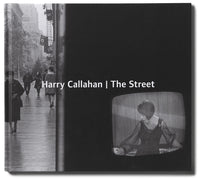 Harry Callahan (1912–1999) played a central role in the development of modern photography during the second half of the twentieth century. During a career that spanned five decades he produced an extraordinary body of work that focuses on the everyday and encompasses a broad array of photographic techniques. The collection of the Vancouver Art Gallery includes almost 600 Callahan photographs, representing the full chronology of Callahan's career, that were acquired in 2013 and 2014 through the generosity of the Montreal-based Rossy Family Foundation.
Celebrating this extraordinary gift and addressing an area of Callahan's activity that is not as widely known as other aspects of his production, Harry Callahan: The Street features more than 100 photographs made of the urban environment in Detroit, Chicago, New York, Atlanta, Cairo, Mexico and Morocco. The publication spans the montages produced in Detroit in the early 1940s up to the pictures he made along Peachtree Street in Atlanta from the mid-1980s until just a few years before his death in 1999.
Co-published by the Vancouver Art Gallery and Black Dog Publishing on the occasion of the exhibition Harry Callahan: The Street, curated by Grant Arnold and presented from June 1 to September 5, 2016.
Edited by Grant Arnold
Essays by Grant Arnold and John Pultz

140 pages
11 x 10 inches
100 colour illustrations
ISBN 9781910433584
Hardcover
Vancouver Art Gallery and Black Dog Publishing
2016