---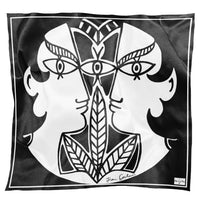 This lavish scarf features Le Théâtre Antique, 1962 by Jean Cocteau. The scarf is silky to the touch and finished beautifully with rolled stitched edges. Tie or drape it to complete any look.
100% silk twill
40 x 40 inch square
Dry clean only
Made in France by Brochier Soieries
Since 1890, the Brochier family has been continuing a tradition that was born in Lyon in the 16th century: the manufacture of exceptional cloth made of natural silk threads. Since the creation of the workshop, four generations have been following one another on the Croix-Rousse slopes, each of them transmitting to the next their passion for a work that demands a continuous involvement.