---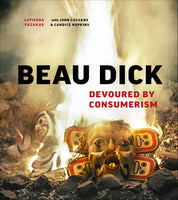 "With this body of work, Beau intended to launch his most overt critique of a system that he knew was unsustainable, in favour of a return to the cultural values of his people, and his profound generosity compelled him to share these values as widely as possible." - LaTiesha Fazakas
Beau Dick (1955 - 2017) was celebrated far beyond his hometown of Alert Bay, B.C., for both his political activism and his creation of striking, larger-than-life carved masks inspired by the traditional stories of the Kwakwaka'wakw. Dick's multi-faceted engagement with Kwakwaka'wakw culture included carving (which he learned from Northwest Coast artists such as Henry Hunt, Doug Cranmer, and Bill Reid), storytelling, and dancing.

As a high-ranking member of Hamat'sa, the prestigious Kwakwaka'wakw secret society centred on the story of a ravenous, man-eating spirit, Dick drew on all these art forms to create regalia for and participate in elaborate ceremonies that enacted Kwakwaka'wakw cosmology. Devoured by Consumerism shares nearly two dozen of these masks: vivid, unforgettable creations, made with traditional and contemporary methods and materials, depicting figures like Cannibal Raven, Nu-Tla-Ma (Fool Dancer), and Bookwus (Wild Man of the Woods).

Texts by LaTiesha Fazakas, John Cussans, and Candice Hopkins outline the stories that the masks depict, consider the inescapable parallels between Hamat'sa and the consumerism of capitalist society, and grapple with the philosophy that animates Hamat'sa - one that seeks to confront and, ultimately, master the voracious appetites inside us all.
By LaTiesha Fazakas, John Cussans and Candice Hopkins

96 pages
8.2 x 9.2 inches
ISBN 9781773270869
Hardcover
Figure 1 Publishing
2019